All in Films' feature length independent film Hello, Herman… is currently in post production.  The film is an adaptation of John Buffalo Mailer's play of the same name and is directed by Michelle Danner (How to Go Out on a Date in Queens, founder of the The Acting Studio at Edgemar). It is Danner's second feature film and was shot in nineteen days on location in Whittier, California on the Arri Alexa. Sandra Valde (Kaboom) was the Director of Photography.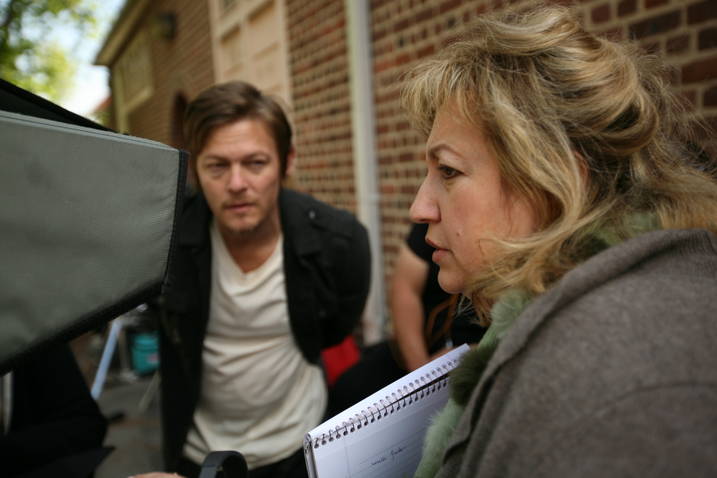 Hello, Herman… stars Norman Reedus from Robert Redford's The Conspirator, The Walking Dead, and Boondock Saints. He was most recently seen in Lady Gaga's You Tube hit video Judas which has received 96 million hits on YouTube.  The film also stars Mexican star Martha Higareda, and newcomer Garrett Backstrom playing the titular Herman. 
Set in the not so distant future, in Any Town USA, sixteen year Herman Howards makes a fateful decision. He enters his suburban school and kills thirty nine students, two teachers, and a police officer. Just before his arrest he emails his idol, journalist Lax Morales, sending him clips of the shootings captured with Herman's own digital camera. In the clips Herman tells Lax, "I want to tell my story on your show." Lax Morales, haunted by his own past and what he did to acquire fame, is now face to face with Herman and the ghosts of his past.  Hello, Herman… is the story of how these two lives intersect and the life lessons both troubled souls learn from each other. 
With All in Films' mission to produce films that spark social commentary in mind, Hello, Herman… tackles the effects bullying has had on society. Statistics state, "30% of students who reported they had been bullied said they had at times brought weapons to school." (Burns 2011*)   The staggering numbers as well as the incidents that have received national attention in the past decade play an integral part in the production's hope to contribute to the dialogue.
As a problem that typically goes unnoticed until tragedy strikes, raising awareness about the effects of bullying has become an urgent social topic. Hello, Herman… is a poignant examination of the making of a teenage school shooter. Its provocative and powerful subject matter speaks to teens, parents, educators, and anyone who has endured the universal experience of needing to be heard.
The movie explores why and how a massacre like this can happen in our society, the desensitizing of America, youth violence and bullying, the impact the media has on our individual quest for fame and recognition, and ultimately our need for connection.  We hope this movie's open and honest look into our collective conscience will leave a lasting impact on any audience.
Hello Herman… wrapped early summer 2011 and is in the process of being submitted to both national and international film festivals. 
*James Burns, "Bullying Statistics" March 28th 2011 http://behavioral-management.com/bullying-statistics