New Hello Herman EPK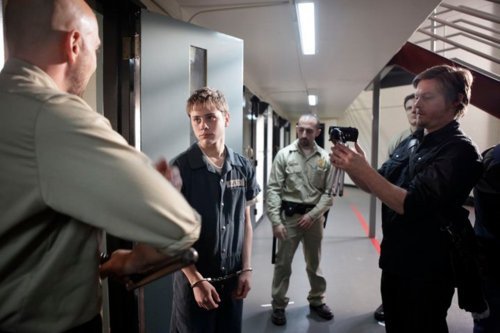 Check out our new EPK for Hello Herman, featuring new footage and interviews with The Walking Dead's Norman Reedus, here:
http://www.youtube.com/watch?v=J3niNA19KJM
Hello, Herman tackles the effects bullying has had on society. As a problem that typically goes unnoticed until tragedy strikes, raising awareness about the effects of bullying has become an urgent social topic. Hello, Herman is a poignant examination of the making of a teenage school shooter. Its provocative and powerful subject matter speaks to teens, parents, educators, and anyone who has endured the universal experience of needing to be heard.
The movie explores why and how a massacre like this can happen in our society, the desensitizing of America, youth violence and bullying, the impact the media has on our individual quest for fame and recognition, and ultimately our need for connection.  We hope this movie's open and honest look into our collective conscience will leave a lasting impact on any audience.
DATE March 19, 2012
CATEGORY School Violence
TAGS anti bully, anti bullying laws, anti bullying program, anti bullying week, anti-bullying, Boondock Saints, bullies, bullies at school, bullies in school, bully at school, bully in school, bullying, bullying at school, bullying facts, bullying in school, bullying in schools, bullying organizations, bullying statistics, facts about bullying, facts on bullying, Garrett Backstrom, Hello Herman, help with bullying, how to stop a bully, how to stop bullies, how to stop bullying, lady gaga, Martha Higareda, Michelle Danner, Norman Reedus, school bullying, school bullying sites, school bullying statistics, stop bullying, stop bullying now, The Acting Studio at Edgemar, walking dead
← Back