Bullies hide where cameras can't!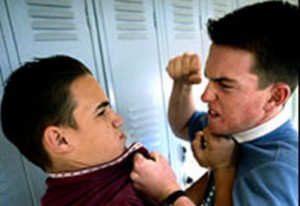 There are numerous locations at a school where kids are more susceptible to bullying. School playgrounds and bus stops are locations where bullying happens quite often, even though there is usually some type of supervision on site.  This past year, a 13-year-old girl in Florida was wrapped in saran wrap by to older boys while she was waiting at the bus stop.  The incident made local and national news. To go even further, every 7 minutes, a child is bullied on the playground.  Where are the teachers or security guards that are supposed to be supervising these children when these incidents occur?  Well, 1 in 4 teachers see nothing wrong with bullying and will only intervene 4% of the time.
Cyber-bullying is present at all times.  With society growing more technologically savvy, younger kids are having access to cell phones, personal computers, and tablets at their fingertips.  1 in 4 children are more than occasionally cyber-bullied.  This year, over 13 million American kids will be bullied at school, on the bus, at home, through cell phones, and on the streets of their towns making it the most common form of violence young people face in this country.
There are other places in schools with less supervision where bullying occurs.  43% of middle school children avoid the bathroom and locker rooms at all costs due to certainty of being bullied.  That means that they were either already bullied in the past and are using their own experiences to avoid future torment, or they have heard stories of family members or friends having been bullied in those specific places, where school cameras are not permitted.  Yes, it is illegal as in changing rooms, locker room's or bathrooms it is a space of privacy and if schools place hidden cameras in any of these places, it would legally be considered invasion of privacy.
Did you know that public figures are advocating overturning these laws that protect invasion of privacy as an effort to stop bullying in schools.  This is becoming an even bigger argument than bullying itself, because now parents are against surveillance in these private areas, but they are insisting that the government make schools safer.  It looks like the administrators of the school districts, as well as state and federal governments have their work cut out for them.  There has to be another alternative that will provide a better solution to the problem.
In the feature film, Hello Herman, the protagonist is bombarded by bullying on a daily basis verbally, physically, and through cyber space.  Be sure to check out the trailer for Hello Herman at  www.allinfilms.com and/or www.hellohermanthemovie.com.
DATE September 18, 2012
CATEGORY Uncategorized
TAGS anti bully, anti bullying laws, anti bullying program, anti bullying week, anti-bullying, Boondock Saints, bullies, bullies at school, bullies in school, bully at school, bully in school, bullying, bullying at school, bullying facts, bullying in school, bullying in schools, bullying organizations, bullying statistics, facts about bullying, facts on bullying, Garrett Backstrom, Hello Herman, help with bullying, how to stop a bully, how to stop bullies, how to stop bullying, lady gaga, Norman Reedus, school bullying, school bullying sites, school bullying statistics, stop bullying, stop bullying now, walking dead
← Back
Next →